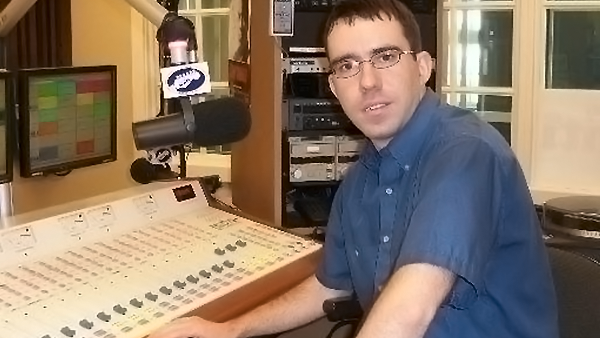 WNTI Operations Manager reflects on past and looks forward to future
---
A great advantages of being a student at Centenary University is having access to the WNTI Radio Station location in the Lackland Center. The station allows for hands on experience and this has been the case for over ten years.
Johnny Del Re, a former student at Centenary and member of the early WNTI team, is now the man in charge, currently serves as the Operations Manager and Acting Director.
"I oversee all of the technical operations," Del Re said. "If anybody has an issue with the equipment, I take a look at it. I load some of the shows, I produce one of the shows for the station called "Value This."  I train the students.  I meet with students at the meetings.  Since our current director is out on medical leave, I've been filling that role as Acting Director. So I'm in the midst of doing two jobs. It's a balancing act and we're positioning ourselves to be a great asset not only for Centenary University, but for the community."
John joined WNTI while it was in its infancy and remembers the evolution that he saw happening before his eyes.
"When I started in 2004, WNTI was in the midst of a transition," he said.  "The general manager at the time and the rest of the community volunteers were transitioning the station from a community run with some students radio station that was free formed with a different show on every three hours to more of a standard format Triple A, public radio kind of format.  I came in in the midst of the transition period and was able to see the change to a public radio station with a music format."
In addition to looking back, John is also looking at the future of the station and is pleased with how more and more students are looking to get involved.
"Since becoming an internet station, we've gone through a couple of different changes personnel and program wise," he said.  "So I think now we are in the midst of another transition.  We've got more students on in the spring semester so I'm very happy about that and we just have to keep working at that.  It's all about word of mouth, it's getting more people interested in our social media and it's also getting more people to come to the university.  If you make the program standout, more people will want to come to Centenary."
With technology getting more advanced and students becoming more ambitious, John is looking to try out something new in the fall.
"One of the things I'm trying to see if we can do is to broadcast one or two athletics teams during the fall semester," he said.  "However, there's a lot of different complications with that.  You have to make sure you have the people, you have the equipment in place.  It's something we're going to try to work on."
For more information, be sure to follow WNTI on Instagram, give a like on Facebook or come down and see the station in person.
---
Latin Centenary, radio, sports, student, WNTI