Rebecca Kopf / Deejay Personality
---
Rebecca Kopf shows
---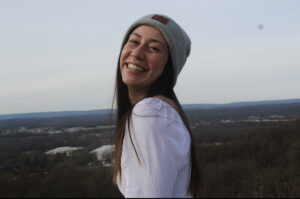 At Sussex Community College: Played two years for the Skylanders and appeared in 22 games over that stretch … tallied eight points on three goals and two assists … her goal as a freshman came on a penalty kick … had two goals and one assist last year as a sophomore … took 36 shots on the year and put 15 on goal.
At Sussex County Technical School: Was a left wing for coach Harley Rolph-Barnhart … played all four years on the varsity squad … named 1st Area all Player and 2nd team All Herald … was the Midfielder of the Season … earned the Coaches Award twice … named All-Conference all four seasons … member of the All Academic Team three times … served as the team captain as a senior … ran three years of indoor track and four years of outdoor track and was named all-conference for that multiple times … also played one year of basketball.
Personal: Daughter of Anne Marie and James Kopf … has five siblings, Brandon, Kayla, Lindsey, Thomas and Timothy … career goal is to become a sports reporter … admits her biggest pet peeve is drivers who don't use their blinkers … lists her mother as the person she admires most … favorite holiday is Thanksgiving … dream vacation location would be getting to see the Northern Lights in Norway … most memorable experience was meeting Sadie Robertson with Blaise Vallorsi … majoring in sport management and entertainment.
---