Review of the new film "Us"
Written by Katie Peters on April 3, 2019
Disturbing, twisted, and thought-provoking.  Us is directed, written, and produced by Jordan Peele and stars Lupita Nyong'o, Winston Duke, and Elisabeth Moss.  This film tells the story of a family whose lives turn upside down when their evil doppelgangers interrupt their family vacation.
Us is the sophomore directorial debut from Jordan Peele, and the movie has already broken records.  Us had the best opening ever for an original horror movie, it had the third best horror opening of all time, and it had the best opening for a live-action original film since 2009's Avatar.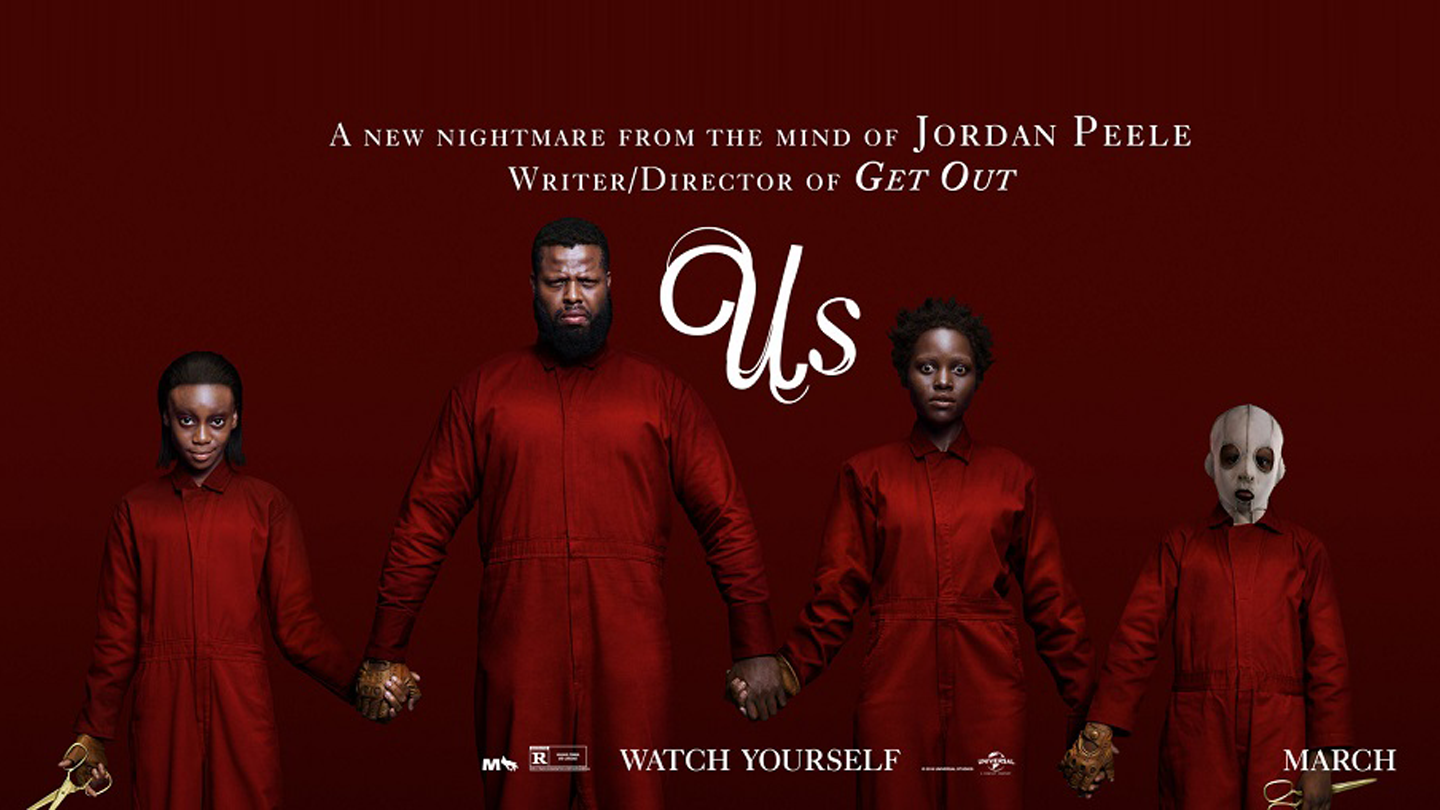 I have watched this film twice now, and the first thing I think about on my way home from the theatre is Lupita Nyong'o's performance as Adelaide Wilson/Red.  She was absolutely terrifying as Red and was the driving force in this film, both as Adelaide and as her evil doppelganger. Nyong'o's presence filled the room, and her performance as Red was the heartbeat of every twisted scene she appeared in.  Other than Nyong'o, there was not a weak performance to be found. This film had some great "kid-actor" performances from Shahadi Wright Joseph as Zora/Umbrae, Evan Alex as Jason/Pluto, and Madison Curry as Young Adelaide/Young Red.
Another shining quality of this film was Peele's sense of direction.  Beautifully composed shots, chilling dialogue, and a unique and original concept all contribute to the well-deserved praise that Peele has received for this film as well as his debut with Get Out.  Even more after my second viewing of the movie, I really appreciate the astounding amount of symbolism and hidden messages that are sprinkled throughout the film.  It's evident how much time and thought Peele put into this film, and it paid off. This is the type of movie that you can rewatch time and time again and still would find more hidden meaning.  
My only negative take-away from Us is the overall message/meaning and the way in which it was conveyed.  I felt that there are multiple messages here. One is about how disturbing the idea of having a doppelganger is, another is the thought of having so many underground tunnels beneath the U.S. that are unused, and another regarding social commentary about Americans and social class.  Personally, I would've liked to see Peele narrow these down and focus on one or two and really develop them fully. However, I felt that the resolution of the film was a bit fuzzy because there were so many themes running throughout the film. I find the idea of having an evil doppelganger to be very disturbing, so I would've liked for that to be the main focus without the unclear social commentary regarding "Hands Across America."
I know of some people who did not like the ending of the film.  Personally, I really liked it. However, Peele showed too much with it and it was a missed opportunity to leave more to the viewer's imagination to decide what happened or didn't happen.  
Overall, I really enjoyed watching Us the both times that I saw it.  The pace is great, the dialogue is interesting and comedic at times, and the performances in this film are stellar.  However, due to the jumble of themes and lack of developing each one fully, the third act felt a little confusing. If I had to chose, I would say that Get Out is a better film overall.  With that being said Us is intriguing, entertaining, and I can't wait to see more from Jordan Peele.  I'd give Us an 8.3/10.  
---
---