Concert Review: Harry Styles at Madison Square Garden
Written by Eve Foote on November 9, 2021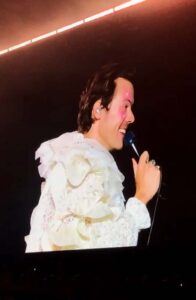 Harry Styles, who's been on his fall 2021 American "Love on Tour," has been making
fans feel extra noticed lately. He performed at Madison Square Garden on Sunday, October 31,
2021. He was dressed in a clown-influenced costume for "Harryween" (a special two-night event
apart from his typical "Love on Tour" routine). At this show, the "Golden" singer certainly made
two fans feel extra special. After singing his 2019 hit, "Lights Up," he stopped to appreciate his
New York City fans. While walking to the other side of the stage, he noticed a girl holding up a
poster sign. He asked her if he could read it aloud. It said, "I came with my ex for you." He then
went on to give these two strangers a sort of unexpected, yet hysterical "couples therapy" for
millions of other fans to enjoy. The former couple let Harry know they came to the show
together, only two weeks after breaking up. He started jokingly interrogating these fans with, "I
have questions. First of all, why is that for me? I think it might be for you." Then, he asked,
"And how long have you been separated, uh, consciously uncoupled?" The female fan responded
seven months. His banter back went as follows:
"You know, it's very nice. It's very nice that you guys are here together. It's very mature.
It's very nice that you can enjoy an evening out, you know, as friends. Seven months
ago, seven months and two weeks ago, there was a time when you thought, 'We like
each other a lot.' I don't know where your relationship is at now. It's clearly better than
some people, but for tonight, just for tonight, let's take it back all the way."
When the crowd exploded in cheers, Styles needed to clarify that he wasn't encouraging
the couple to get back together. "I don't mean she has to go back out with you," he said,
addressing the male fan. "She can do whatever she wants. My point is, let's reminisce on a night
seven months and two weeks ago when you two looked at each other, deep in the eyes, and you
thought, 'Yeah, you'll do." He paused and finished with, "We're very happy to have you here,
thank you so much. I wish you both all the best in your future endeavors, both separately and
together." Styles turned back around to see them kissing. It's safe to say Harry's Halloween
costume should have been Cupid instead.
---